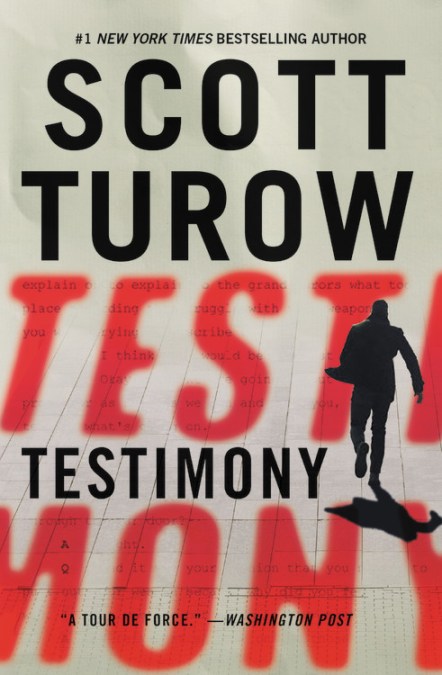 Testimony
Scott Turow, #1 New York Times bestselling author and "one of the major writers in America" (NPR), returns with a page-turning legal thriller about an American prosecutor's investigation of a refugee camp's mystifying disappearance.
At the age of fifty, Bill ten Boom has walked out on everything he once thought was important: Kindle County, his law career, even his wife. Still, when he is tapped by the International Criminal Court-an organization that prosecutes crimes against humanity-he is compelled by a mystifying case. Over ten years ago, in the chaos following the Bosnian war, a Roma refugee camp vanished overnight. Now a witness has finally stepped forward: Ferko Rincic claims that armed men marched the camp's 400 residents to a cave and then set off an avalanche with a hand grenade, burying them alive. Only Ferko survived. Boom's task is to investigate Ferko's claims, taking him from the Court's base in Holland, to Bosnian villages, to secret meetings in Washington, DC, as he sorts through the alliances and treacheries of those involved: a disgraced US major general, members of the U.S. military, the brutal former leader of the Bosnian Serbs, Ferko's seductive barrister, and of course, Ferko himself, on whose testimony the entire case rests-and who may know more than he's telling.
Read More
Praise
"This is at once a thriller, a story of middle-aged angst, an exposition of international law and an exploration of an intensely serious and very nasty episode in recent history...admirable and important."—New York Times Book Review
"The real pleasure of the new novel lies not so much in solving the mystery of the massacre as in watching Turow knock down assumption after assumption made by Boom--and the reader. In fact, I can't think of another novel in which so many givens end up being exposed as either honest mistakes or outright lies. TESTIMONY is a tour de force of collapsing perceptions."—Washington Post
"The master of the courtroom drama, Scott Turow's latest legal thriller goes international and is a page turner not to be missed!"—Daniel Silva, #1 New York Times bestselling author of The Black Widow
"TESTIMONY is Scott Turow's most ambitious and complex work-which takes us from the gritty familiarity of his beloved Kindle County into a mysterious world of international intrigue. It's the best kind of thriller, which stimulates the mind as well as thrilling the heart."—Jeffrey Toobin, New York Times bestselling author of American Heiress
"A compelling story, told with Turow's usual ease, authority and understated humor."—Chicago Tribune
"Turow's lively prose and terrific cast of supporting characters make TESTIMONY one for the beach bag...This is a guy who knows what he's doing: Turow has been crafting intricate, best-selling legal thrillers dating back to his blockbuster wifedunit, Presumed Innocent (30 years ago!)."—USA Today
"Scott Turow writes with zest and authority about the inner workings of the law...TESTIMONY unfolds in highly descriptive prose and is sprinkled with colorful characters."—Atlanta Journal-Constitution
"Turow applies the same storytelling magic to the ICC that has drawn scores of readers into his Kindle County courtrooms, weaving fascinating details about the challenges of prosecuting war crimes into a suspenseful story of redemption and the complexities of justice."—Booklist
"Follows twists and turns, shifting alliances, and a near-fatal confrontation... [TESTIMONY] is exciting and consistent with Turow's prior novels."—The Missourian
"A complex and haunting tale of war crimes that will not only satisfy his courtroom drama devotees but also readers of international thrillers."—Library Journal
"Bestseller Turow (Identical) movingly evokes the horrors of the Balkan wars in this gripping thriller."—Publishers Weekly
"TESTIMONY is an absolutely crackerjack read, and again leaves us wishing that Turow would haul out his typewriter a tad more often."—Winnipeg Free Press
"A thriller yarn with many twists and turns."—Chicago Sun-Times
"Raises important questions of responsibility, patriotism, corruption and the role of military power. And even as it confronts these weighty issues, it keeps the reader engaged in a page-turning thriller...Turow is back on his game in TESTIMONY."—Illinois Times
"Fast-paced...Scott Turow is first and foremost a storyteller, and that's what propels the action, that and trying to figure out the truth...another fine book by this very fine writer."—Washington Times
"[A] smart, demanding thriller."—Washington Post, "17 Thrillers and Mysteries Worth Toting to the Beach"
"Scott Turow has done the impossible: Making the International Criminal Court in The Hague interesting. ..in TESTIMONY it is a hotbed of intrigue and infighting involving a massacre of Roma people in former Yugoslavia and the travails of an American prosecutor."—Bloomberg.com, "Our Favorite Summer Reads"
"Not your average legal thriller. Brilliant? Yes. Compelling? Yes. Complex? Yes. Fraught with misperceptions, twists and turns? Yes. Most of the time spent in a courtroom? Not even close...the setting and circumstances made me feel as if I have seen a glimpse of what it was like in Bosnia during the war."—Fredericksburg News
"TESTIMONY shows the great human toll when an entire section of the world descends into chaos...this novel is a legal thriller on a grand stage...Turow's descriptions of the causes and aftermath of the Bosnian war are both substantive and compassionate...sheds an unwavering light on the devastating human toll and the still-reverberating political aftershocks."—The ARTery, WBUR
"Scott Turow's new novel is the dedicated fiction-reader's version of El Dorado: a driving, unputdownable courtroom drama/murder mystery that is also a literary treasure, written in language that sparkles with clarity and resonates with honest character insight. I came away feeling amazed and fulfilled, as we only do when we read novelists at the height of their powers. Put this one on your don't-miss list." (Praise for Innocent)—Stephen King
Read More
Read Less